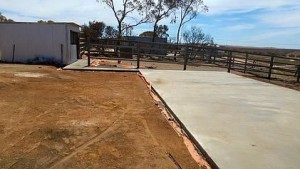 The rebuilding has begun of the razed property of Mallala harness partners Phillip Westbury and Kerry Green.
It may only seem a small step but Nigel Martini and the team from Xtreme Concrete have laid a 120 square metre slab of concrete as the popular pair start again after the disastrous Pinery fire destroyed their lives.
"I want to get Kerry back racing as soon as possible," Westbury said.
"It is important to get some normality back after such a heart breaking loss.
"In our home we had special rooms made up to cater for our 13 grandchildren and one great grandchild who used to come over once a month to play – they were such great times.
"The fire took our home completely so that is just as area we need to rebuild."
Fellow harness enthusiasts Peter Borrelli and Michael Henneker have organised for a 40-foot on-site caravan to be taken to the property this week which will become home for Westbury and Green while the rebuild takes place.
Henneker's efforts have been amazing. He basically dropped his own life to help out.
As soon as the fire had raced through, friends donated a smaller caravan which has served the pair well but the bigger caravan will allow for a better situation as the makeover takes place.
Westbury said he and Kerry had been overwhelmed by the community spirit.
"The Mallala community, Harness Racing South Australia, industry participants, my work colleagues and clients, and just everyone in general have been so giving," Westbury said.
"We can't properly express our gratitude – just thank you to everyone."
Westbury said while there were so many things to do, his main focus was to get Kerry back racing.
"She lost close to $100,000 worth of gear, with five bikes, two joggers and so much harness and associated items.
"I'm hoping that we can organise to get just enough gear to enable Kerry to get back racing, sooner rather than later, to ease the thoughts of the devastation of the fire."
Westbury said he would never be able to repay the generosity of everyone.
"My work colleagues at Bianco Reinforcing have picked up my work while the company is still happy to pay me while the team at the Mt Barker Bianco have donated $1500 for equipment to help the rebuild.
"A stud in Victoria has donated a mare in foal for us to have when we get the property operational again to give us a chance to rebuild our stock.
"One good result was that we were able to save 16 mares, three ponies and two racehorses – some affected by the fire, but able to be saved."
Westbury and Green have already been along to see counsellors to help emotionally handle the fire and its consequences.
"Everything can seem okay, then something is said that triggers our emotions and we just break down crying," Westbury said.
"But we are determined to get everything back in order and regain normality in our lives.
"Again, Kerry and I want to thank everyone for their generosity, and let them know we are determined to be back at the track as soon as possible."
Harness Racing South Australia, which has approved $10,000 in funding for participants affected by the fire, continues to be a point of contact for those affected.
Veterinary surgeon and trainer Toby Ryan, whose own stables were saved by a change of wind, has been invaluable in helping participants with vet donations from Randlab and Ranvet.
BOTRA also has been working hard for products to be distributed while industry people from Queensland and Victoria have been generous in donating money from driving fees to assist the bushfire appeal.
PIC: The concrete slab laid by the Xtreme Concrete team to help start the rebuild of the property of Phillip Westbury and Kerry Green.